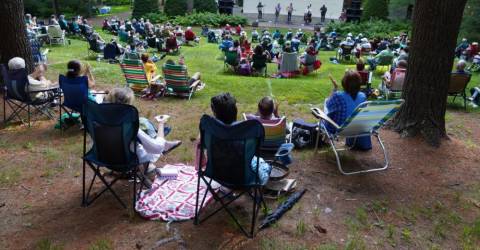 A wildlife reserve offers a series of concerts
Dorflinger's Wildflower Music Festival is pleased to have announced several concerts through August 13th, as well as a special midweek show on Thursday July 28th. These concerts will feature a variety of musical genres such as jazz, bluegrass, blues and tribute bands. All concerts start at 6:00 p.m. They take place in the Wildflower Amphitheater on the grounds of the Dorflinger-Suydam Wildlife Sanctuary in White Mills, PA.
"There's no better place to enjoy the sounds of music and birdsong in the trees while enjoying a picnic and the company of your friends and neighbors," says Judi Mortensen, President and Creative Director of the festival.
Upcoming dates:
July 09 | 45 RPM Band – This group of musicians and singers recreates the sound of many 45 records from the 1970s, including songs from bands like the Monkees, Herman's Hermits, Gary Lewis and the Playboys, The Turtles, The Mamas and the Papas. All of them are happy tunes like "Daydream Believer", "Do You Believe in Magic", "Come On, Get Happy" and other nostalgic tunes.
July 16 | Colebrook Road – This band bridges the gap between the traditional direct-drive bluegrass played by the Del McCoury Band and the Lonesome River Band and the progressive bluegrass of the Punch Brothers and Billy Strings. Colebrook Road struggles to find common ground.
July 23 | B-Street Band – The sound of "The Boss" will be featured by Springsteen's original tribute band. They play Hard Rock Cafés all over the United States and Europe, and venues all over New Jersey, New York and Connecticut.
Wildflower is an outdoor outdoor music festival held in a tiered amphitheater among majestic trees and green ferns. Please bring a lawn chair or blanket to sit on as chairs are not provided. Picnics and beverages of your choice are permitted at all outdoor concerts. Parking is free. All artists and programs are subject to change.
General admission tickets for any concert are $26; students 12-18 are $13. There is no charge for children under 12 years old. Contributors receive tickets and other benefits. Tiers for annual contributors start at $100. Those who contribute $400 or more can have their own chairs stored and set up before the amphitheater opens for any concert they attend. For more information on becoming a contributor, call Barbara Gilpin, Executive Director of Dorflinger Sanctuary.
For 2022, the festival has arranged with Follow the Smoke catering to offer a barbecue menu and a selection of non-alcoholic beverages at each of the outdoor concerts. Each week the menu will be slightly different. They will have a limited number of items to choose from and everything will be fresh and tasty! If a concert moves to the rain venue, Follow the Smoke will not be present.
In the event of inclement weather, performances are held in the air-conditioned auditorium at Wallenpaupack Area High School. Food and beverages are not permitted in the school auditorium but may be consumed in the school lobby or in the parking lot. If in doubt about the place of performance on the day of a concert, telephone the festival secretariat.
The Wildflower Amphitheater is located on the grounds of the Dorflinger-Suydam Wildlife Sanctuary on Long Ridge Road in White Mills PA. The village of White Mills is halfway between Hawley and Honesdale on Route 6. At the flashing White Mills light, turn at the Dorflinger Factory Museum and walk up the hill to Elizabeth Street. Continue for 6/10 of a mile to the stop sign. Proceed 1/10 mile to the Sanctuary entrance on your right.
For more festival information, contributions, tickets, rain location and directions, please call (570) 253-5500 (Monday through Friday, 10 a.m. to 4 p.m., Saturday from 10 a.m. to 5:30 p.m.), email [email protected], or visit online at www.wildflowermusic.org. Tickets can be purchased at the door the night of the show and in advance by phone, online or in person at the Dorflinger Glass Museum Gift Shop during regular opening hours.