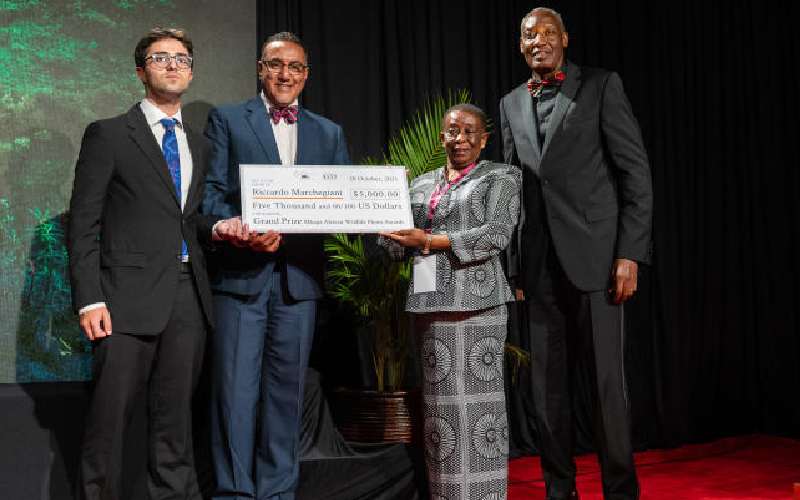 Celebrating wildlife photographers – the Standard
Sixteen wildlife photographers were honored last week by the African Wildlife Foundation during its 60th anniversary celebration at the Kenya National Museum. The Benjamin Mkapa African Wildlife Photography Awards received nearly 9,000 nominations from 50 countries around the world, including 10 countries in Africa.
Grand Prize winner Riccardo Marchegiani of Italy received a cash prize equivalent to Sh 555,476 for his "Gelada and Baby" photo taken in Simien Mountains National Park, Ethiopia.
The photographer will also be featured in an interview with Nature's Best Photography magazine, as well as an article in a special edition dedicated to the Benjamin Mkapa African Wildlife Photography Awards.
The winners of the other categories each received $ 1,000 (111,095 shillings) and a Shona elephant sculpture and will also be featured in the special edition of Nature's Best Photography.
These include James Lewin from Kenya who was celebrated in the "Coexistence and Conflict" category for the photo "Elephant Orphans from Reteti Elephant Sanctuary" taken at Painted Rock in Samburu; Buddhilini de Soyza from Australia for the African Wildlife Behavior category photo "Cheetahs swimming through the Talek River", taken in the Masai Mara National Reserve.
The other winners were Ingrid Vekemans from Belgium for the photo of the category "Wildlife at risk" "Battle of white rhinoceroses" taken in the Solio game reserve; Olli Teirilla from Finland for his 'Africa in Motion' category video, 'Magical Maasai Mara', shot in the Masai Mara National Reserve.
The inaugural photography competition was launched earlier this year to honor former Tanzanian President Benjamin Mkapa, for his role as an iconic environmentalist and one of AWF's longest-serving board members.
"The growing need to hear more African voices from all disciplines speaking on behalf of wildlife and wild lands on the global stage has been identified. These young voices are actively proposing practical solutions adapted to technological advances, and we must not rule them out at all, "said Najib Balala, Tourism and Wildlife CS.