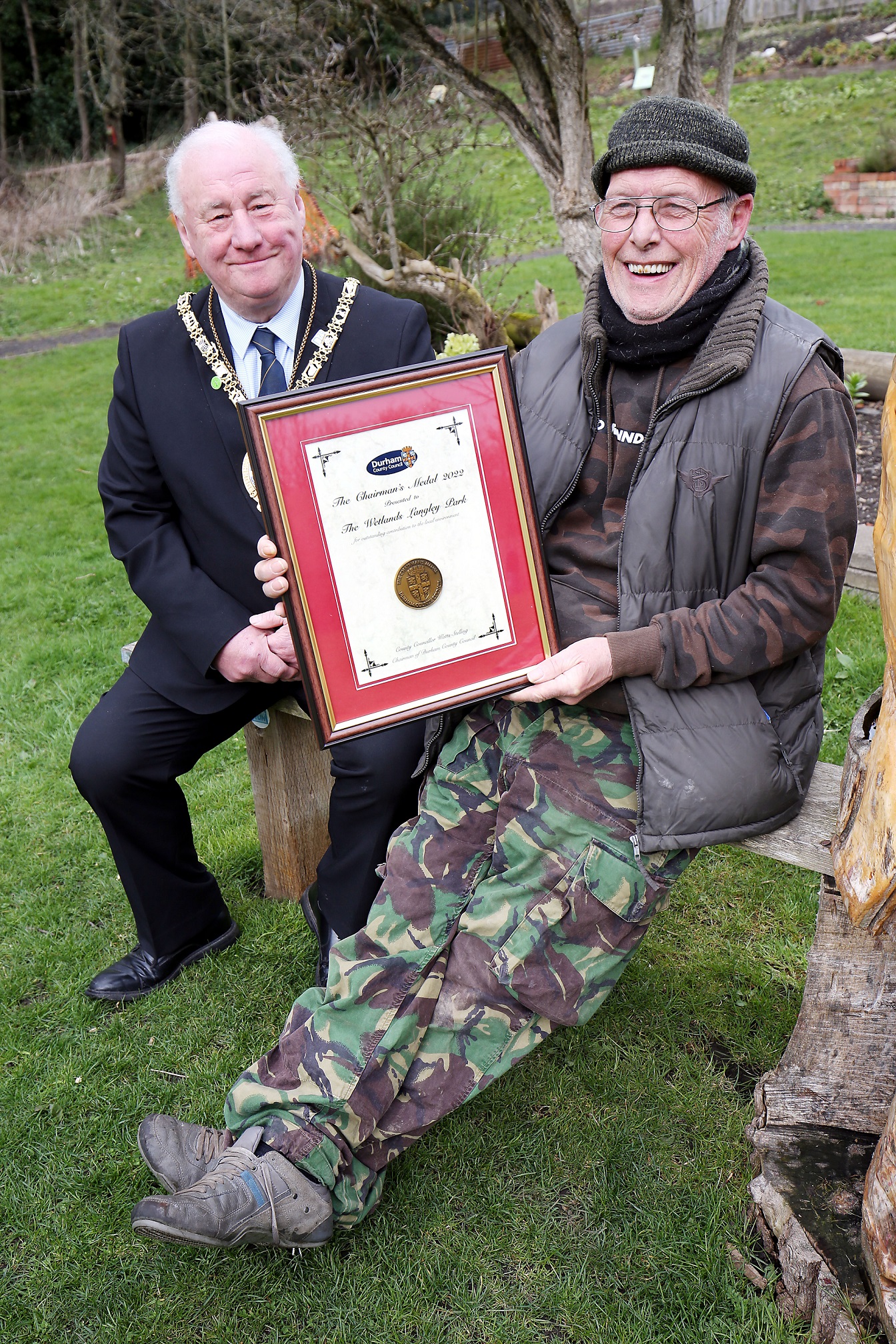 Community Animal Park Receives President's Medal
A wildlife park in County Durham has been recognized for its commitment to the local environment.
The Chairman's Medal is the highest honor that Durham County Council can bestow on individuals and organizations for their outstanding voluntary contribution to the county.
Council Chairman Cllr Watts Stelling presented the medal to The Wetlands, Langley Park, for its outstanding contribution to the local environment.
Project manager Ian Dowson started transforming a wasteland into The Wetlands in 2013, to create a space where everyone was welcome and children could learn.
With the support of volunteers and their generous donation of equipment and materials, it quickly became a haven for residents, community groups and its growing group of volunteers, including a pond, memory orchard, gardens sensory and dementia and its Fairy Glen area.
Since then, volunteers have taken in thousands of children, teaching them about their surroundings, as well as running the Duke of Edinburgh's program and local Rainbows, Brownies and Girl Guides groups. They also support dementia patients, with an accessible allotment area opening soon to further support the elderly and children with disabilities.
Ian said: "I am very proud to receive this award on behalf of The Wetlands, but it is truly an award for every volunteer and everyone who has contributed over the years. Our volunteers are worth their weight in gold. We are so lucky to have so many wonderful people involved in the project.
"I created The Wetlands to ensure that all people, children and adults, could have a place to have fun where they would be accepted to be themselves. I am delighted that we were able to achieve this and promote a positive health and well-being. We hope to continue this for many years to come."
Cllr Stelling said: "It was a pleasure to visit The Wetlands and present this award. The park is such an inclusive environment and has become an incredibly valuable community asset over the years.
"Thanks to the support of so many wonderful volunteers, the park is thriving. It provides a sanctuary for its young and old visitors and is a fantastic environment in which our young people can learn. I have no doubt that it will continue to make a positive difference for all who visit and I want to congratulate everyone involved on its success.