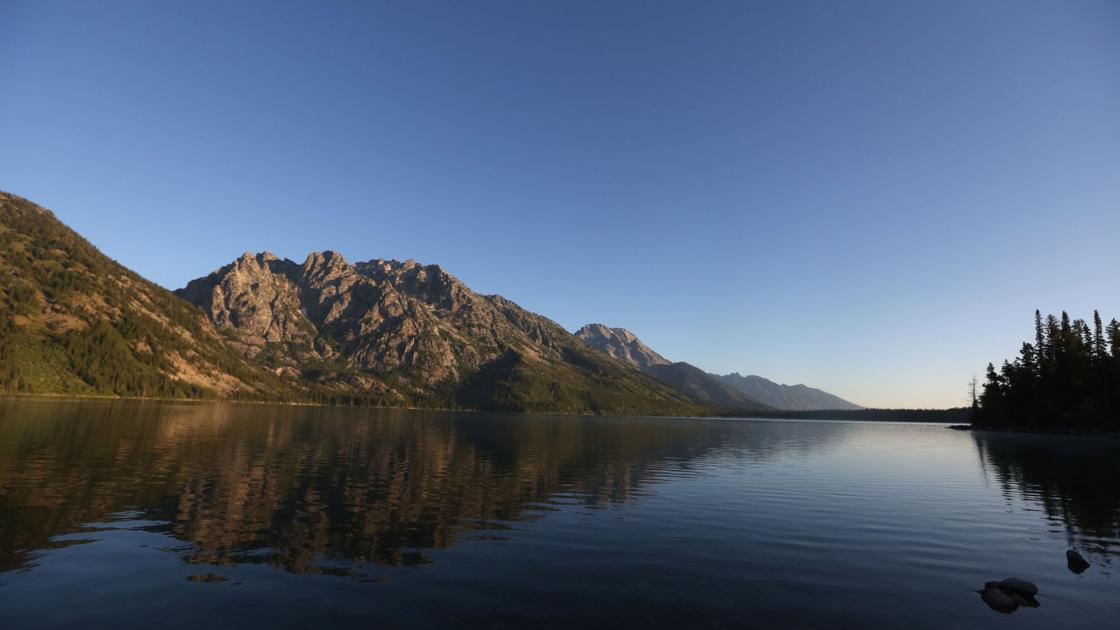 Hunting and fishing commissioners embrace wildlife tourism | Open spaces
Mike Koshmrl Jackson Hole News & Guide Via Wyoming News exchanged

JACKSON – Gay Lynn Byrd couldn't quite remember the last time she laid eyes on the Tetons, but his best guess was that it had been almost 30 years.
A native of Douglas, the Wyoming Game and Fish commissioner was certain of something else: she had never seen a wild wolf.
"We have a ranch so we see cattle and wildlife all the time, but just seeing it with the Tetons is awesome," Byrd said. "It was the first time I saw a wolf in the wild.
"Now we just have to keep them here," added the 60-year-old, "because we don't want them."
The long-distance gaze of Converse County residents at a wolf pack in Grand Teton National Park had taken place minutes earlier on a wildlife viewing safari led by Eco Tour Adventures. First spotted by another commissioner, the wolves headed south on a bench across the Snake River. They were visible through good optics from the Snake River Overlook on the highway side. Meanwhile, a group of elks gathered at the bottom of the river about 150 meters away, well aware of the passage of canine carnivores.
"Their heads were up, looking in the direction of the wolves," recalls Taylor Phillips, owner and founder of Eco Tour. "It was pretty amazing."
Predator-prey interaction was a highlight of the April 20 tour, which exposed all seven of the Wyoming Game and Fish Commission and Cheyenne-based department leaders to a vibrant wildlife tourism industry in Jackson Hole. Wildlife tourism activity extends beyond the hunters and anglers who represent the state agency's bread and butter constituency.
At the same time, Phillips was using the tour to launch and promote a new initiative he had designed to funnel a new source of income into Wyoming wildlife conservation. The initiative, called Wildlife Tourism for Tomorrow, allows businesses and their clients to donate a predetermined dollar amount or percentage of their income to specific projects, such as underpasses planned for wildlife along off Highway 189 near Dry Piney Creek. A new foundation that partners with Game and Fish, the WYldlife Fund, acts as an intermediary, making contributions eligible as charitable donations. The goal, Phillips told commissioners ahead of the tour, is to provide private companies with a way to invest in wildlife.
"If it weren't for the wildlife I wouldn't have a job and this hotel probably wouldn't be here," Phillips said from outside the Lodge entrance in Jackson Hole. "It's time for these entities to give back.
There is already membership.
Besides Phillips' Eco Tours, Buffalo Roam Tours and Team 399, which runs photo safaris, have also pledged a portion of their earnings. Four hotels are also present, the Elk Country Inn, the Cowboy Village Resort, the Antler Inn and the 49er Inn and Suites. As late as Tuesday, the Fish The Fly fly fishing guide service signed up and committed 1% of its sales.
The Game and Fish Commission and the government employees they oversee embrace the idea with open arms. Game and Fish, like wildlife management agencies in many states, has long struggled to find a mechanism to extract money from people who don't hunt and fish.
"There is no quick fix," said Pete Dube, chairman of the Game and Fish Commission, from Phillips' safari van hours after the wolf sighting.
Wildlife tourism for the future, added Brian Nesvik, director of hunting and fishing, could "absolutely" be a step towards meeting the agency's needs using funds that do not come from permits and taxes. excise duty on ammunition and fishing equipment.
"Where there's a need for funding is on these projects, that's where we don't have the capacity," Nesvik said. "Just for example, we would really like to build overpasses on Interstate 80 at major crossings. We're talking about $ 30 million, and we don't have the capacity to do that, but something like that could help generate some revenue.
The visit to Teton Park and the nascent Phillips initiative can also be interpreted as a proverbial olive branch aimed at uniting two camps: the so-called non-consumer wildlife users (like photographers) and consumers (hunters and fishermen). . While these groups are not always aligned when it comes to hunting and fishing policy, there are many overlaps between the two and a shared common goal of supporting and conserving wildlife.
Greater Yellowstone Coalition Wildlife Program Coordinator Chris Colligan was among those in attendance last week who felt pleased with the progress and knowledge gained.
"It was truly an opportunity to share with the state's wildlife decision-makers the experiences that draw millions of visitors here each year," said Colligan. "The vast majority of these people who come here to visit and enjoy the wildlife do not buy hunting and fishing licenses, and so he is a voter who goes unnoticed for the department.
Penny Maldonado, who heads the Cougar Education Focus Fund, was also encouraged.
"I'm so glad they came," said Maldonado. "The important thing is that they saw what so many people come to see and enjoy, and they saw what so many people still think of as Wyoming."
Wyoming Untrapped founder Lisa Robertson is another local who aims to unite non-traditional bedmates in the wildlife world. She hopes to spend her own dollars on a project the WYldlife Fund is considering, just because it's something close to her heart. She is also excited that the initiative gives visitors a way to participate.
"I love the whole concept," Robertson said. "Let's do this now."