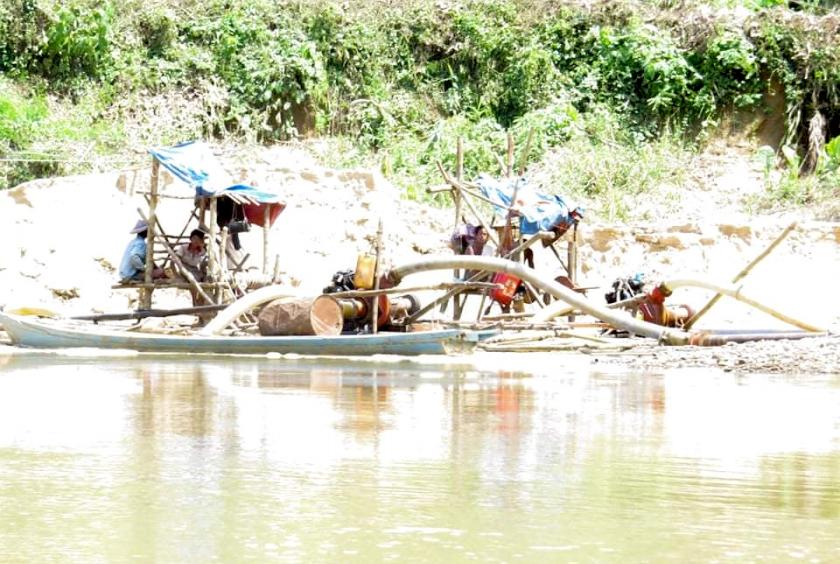 Illegal gold mining increases in ASEAN-recognized Htamanthi wildlife reserve
Illegal gold mining is on the rise these days at the Htamanthi Wildlife Sanctuary, recognized as an ASEAN Heritage Park in the Sagaing region, according to local sources.
Gold mining took place illegally upstream of the Nampheelin stream in the shrine, residents said.
"We have seen illegal gold mines by the Nampheelin stream in the Htamanthi jungle, but gradually they are entering the shrine. In the past there were a few cases. Since 2014, gold mining had disappeared due to patrols and effective action in the sanctuary. But in March of this year, gold mining increased. Today there are around 70 illegal mining sites. As the waste soil and water after gold mining are thrown back into the stream, we are concerned about the damage, "said a local villager.
Htamanthi Wildlife Sanctuary in Upper Sagaing Region was recognized as an ASEAN-AHP Heritage Park after the 15th ASEAN Environmental Conservation Ministers Meeting held in Cambodia from October 7 to 10, 2019.
The sanctuary is a vast protected area of ​​2,151 km2 with the richest biodiversity in northern Myanmar. It is located in the townships of Khamti and Homalin.
Myanmar has eight ASEAN heritage parks: Indawgyi Wildlife Sanctuary, Khakaborazi National Park, Inlay Lake, Alaungdaw Kathapa National Garden, Meinmahla Kyun Wildlife Sanctuary, Natmataung National Park , Lanpi Marine National Park and Htamanthi Wildlife Sanctuary.