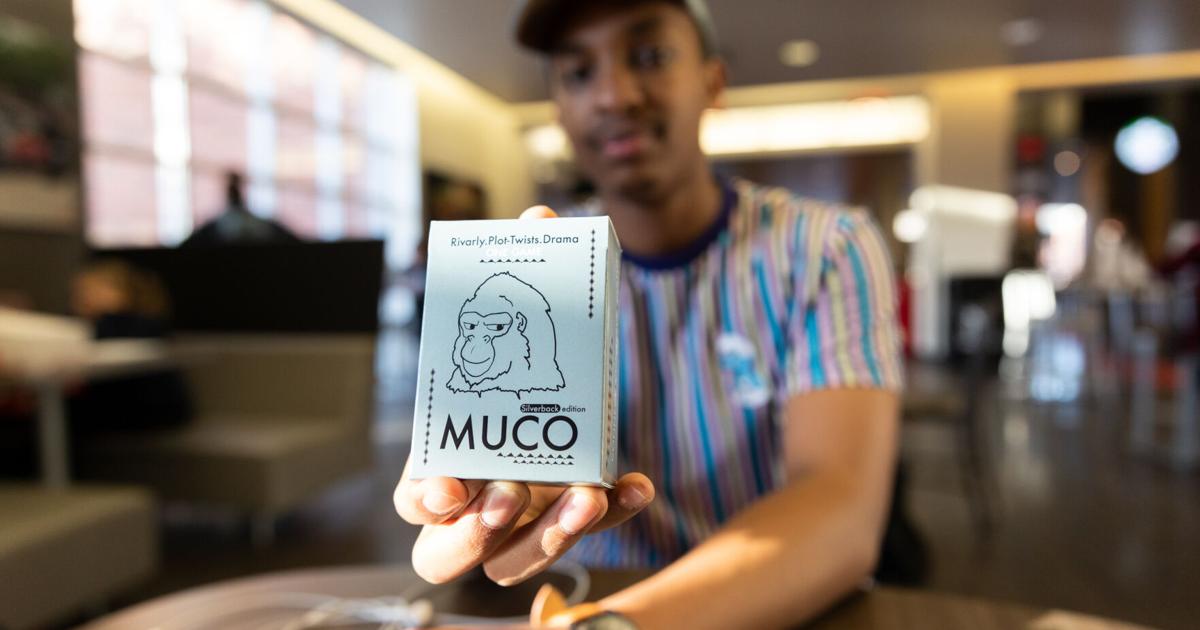 UNL student promotes wildlife conservation and Rwandan culture through card game | Culture
While card games can serve as a fun distraction from matters of the outside world, a University of Nebraska-Lincoln student and his friends saw the opportunity to break the mold and forge an experience through the medium that is as informative as it is entertaining.
Shema Yahya, a third-year integrated science student from Rwanda, is the architect of a business he started with some fellow Rwandans, a card game called CF.
Translating as "culture" in the Rwandan national language of Kinyarwanda, Muco merges competitive strategy with conservation principles and Rwandan cultural expression to deliver an entertaining yet rewarding party experience. The game is designed around what Yahya described as the "three Cs": connection, conservation and culture, which are intertwined throughout the game.
"The bottom line is that we wanted the game to connect families, friends, all of that," Yahya said. "And then we wanted something that just connects to conservation."
As for infusing culture into Muco, Yahya said he drew inspiration from Rwandan traditions with everything from the art style to the words and names on the cards.
Yahya described the game as being based on general strategic card game principles, involving two decks of cards. A deck consists of various "action" cards with abilities that allow moves such as defending, attacking, or leaping towers. The second, called the "Muco" game, functions as collectible "assets" and is represented by Silverback gorillas.
Players use their action deck to try to collect a certain number of Muco cards in order to win, with the particularity being that some Muco cards are "fakes" which do not count towards the total wins.
This design adds elements of deception and a desire to "protect" your Muco deck at all costs, emphasizing the "Conserve" aspect of the design and adding subtle undertones of empathy according to Gisele Kamanzi, another Rwandan Integrated Science student. and a friend. from Yahya who was able to test a first version of the game.
"It gets me to this point where I have to think of a family of gorillas as if it was my family when I was playing because I wanted to win," Kamanzi said. "I was like, 'I have to protect them.'"
Subtle wildlife conservation themes are a major aspect of why Yahya said he was inspired to create the game.
His upcoming "Silverback Edition" will be the second edition of the game, following on from the theme-less "original" edition released in 2021. Yahya said each game deck will come with a QR code on the side that players can scan to be linked to a variety of non-profit conservation organizations. With each new edition of the game, Yahya said he wanted to design a theme around different endangered species around the world, with related organizations specifically selected for each edition.
According to Yahya, he chose to center the theme of the next edition around the Silverback because of his personal connection with them through his home country of Rwanda, home to more than half of the world's wild population of Silverback gorillas. endangered, according to the country's tourism. website.
While Yahya has said promoting wildlife conservation efforts is his main inspiration, he also embodies the "culture" aspect of the design by using the game as an outlet of expression for his Rwandan culture. The elegant designs on the back of each card are inspired by imigongo, a popular Rwandan art form that uses cow dung and ash to create paintings filled with spiraling and geometric designs. This is Yahya's way of saying that the game is tied to Rwandan traditions dating back centuries.
"It has been done for a long time, even before colonization, as if it was something imprinted in the culture," Yahya said. "We're just a very artistic people, so we kind of passed it down from generation to generation."
Additionally, the unique "move" titles on each card – like the one titled "Blinky" which pits two players against each other in an in-game point contest – are displayed in both printed English and stylized Kinyarwanda. These offer players progressive lessons in the Rwandan language and increased familiarity with expressions popular in the country.
Kamanzi said the addition of Kinyarwanda phrases to the game was an extra touch she particularly liked.
"There are words he uses that are funny and people back home use a lot," she said.
This unique cultural appeal was also remarkable for Mikki Sandin, International Affairs and Inclusion Coordinator at UNL.
"From what I understand, this is the first card game developed by a Rwandan for Rwandans, and I think that's amazing," Sandin said.
According to Yahya, the bilingual format is also useful because it allows for seamless translation.
"If we were to grow, say we were to move it to a different market, we could use a different language," Yahya said. "One of the reasons I think the games aren't that popular is because they're mostly in one language."
These cultural connections are something that Eduardo Sicilia, a marketing and entrepreneurship double major from Cancun, Mexico and another early beta tester of the game, left a strong impression. Having launched her own startup in 2020, born out of an audience of Spanish-speaking American football fans, Sicilia is no stranger to the value of niche markets.
He said the uniqueness it gives the game to cultural foreigners, as well as the importance it conveys to ethnic Rwandans, gives the game a wide range of consumer appeal.
"If he goes home, he can be like the next UN," Sicilia said. "It's a board game, but it has cultural aspects of Rwanda or Africa in general. I think it's pretty special because it's tapping into both niches.
It is by capturing the cultural rhythm of Rwanda and promoting conservation efforts that Yahya said he hopes to bring people together with the game, the game's "Connect" design pillar. This dedication to fostering a sense of unity is something not lost on Sicilia, who said he can appreciate the game's inherent sense of community.
"He always talks about how he can bring a family together, he can bring a group of friends together, what a few cards can mean for a group of people," Sicilia said. "I think he does it in a way that will not only give these people a good time, but also make his culture proud."