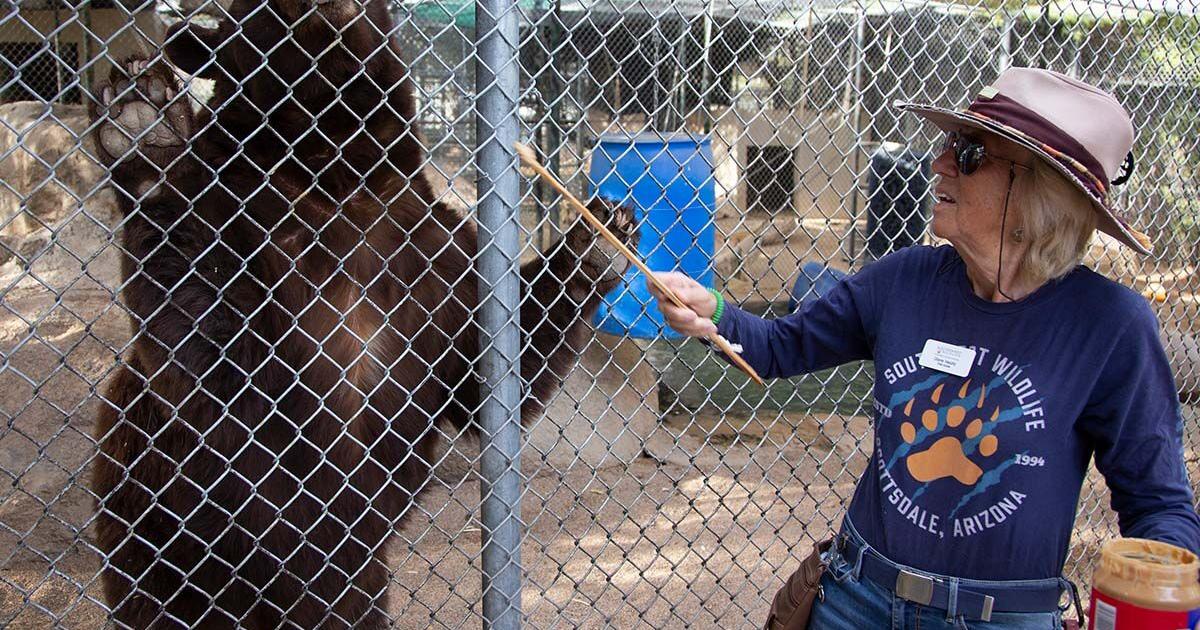 Wildlife Conservation Center Volunteer Wins $ 60,000 | News
[ad_1]
The Southwest Wildlife Conservation Center had a lot to celebrate recently, as one of its volunteers received $ 60,000 from Cox Preserves Heroes for their conservation efforts.
Diane Vaszily has been involved in conservation since the age of 16 and has dedicated over a decade to assisting the Southwest Wildlife Conservation Center (SWCC) in its educational efforts.
Vaszily has loved nature and the outdoors for as long as she can remember.
"As a child, like all children, I was intrigued by every animal that looked behind a branch," she said. "I'm a self-questioning person and I was crazy about science growing up. "
Over 40 years ago, Vaszily left his native Pennsylvania to venture into a state with more diverse wildlife.
"Wildlife became more important when I left Pennsylvania and went to Florida in 1970," she said. "In Florida, you see wild animals that people worry about. I immediately saw that the people of South Florida – like Arizona – came from elsewhere and did not understand the environment in which the animals roll. I immediately reinvested and redirected to this effort.
While living in Florida, Vaszily was inspired by environmentalist and activist Marjory Stoneman Douglas, whom she eventually met.
"It was my desire to meet her, to talk with her and to see how I could continue what she was doing, what I did," Vaszily said. "In Florida I became an environmental educator as well as a science educator and took people to the Everglades to show them how important it was, let them experience it and learn how to keep it as it is. 'It is. "
Once she found her calling, Vaszily centered her life around one goal: "All I have done is let people know that these animals have a place in a particular environment and how we can. continue to allow it to have its place and to share it. "
Vaszily retired from education in Florida and, along with her husband, moved to Cave Creek in 2010. Soon after retiring, she again wanted to teach people about animals.
"When I retired I was looking for something else to do," Vaszily said.
She discovered her new home when she took her granddaughter on a field trip to the Southwest Wildlife Conservation Center in Scottsdale.
"I found this place when my granddaughter came here on a school visit. I came and never left. she reminded herself.
Vaszily felt that there was a need for an educational department, and she decided to lead the effort.
"I signed up immediately and at the time the SWCC did not have an education service," she said.
His first step was to design formal and educational tours that would teach guests a thing or two about the animals rescued by SWCC.
Vaszily had two purposes for the tours: to determine why a particular animal is at the sanctuary and cannot be released, and to educate the public on how to spot these animals without disturbing them.
"We educators see this as an opportunity to share with people the right way to live with wildlife," she said. "If we show them what happens when we don't live well with wildlife, maybe it will fit in better. "
One of the most common issues at the sanctuary is with people who are unable to identify animals but welcome them as pets.
"Most of our cats were brought in because people thought they were house cats and didn't know what to look for," she said. "If we could educate people on how to deal with wildlife, these animals wouldn't need to be habituated. "
While some of the animals spend the rest of their lives in the 10-acre sanctuary, Vaszily reported that 80% of the animals that come to the sanctuary can be released. This motivates her to come and work at the shrine.
"The thrill is that we are giving the animals that were slaughtered and would have died a chance to live while also helping people know that they played a role in it as well," she said.
"We all have a special place in our hearts for a cute little furry animal, but mine goes beyond that. I believe these animals have as much as us and there is enough for all of us, but we have to do it in a sustainable way.
Vaszily also supports the mission of the center.
"That's what I believe in. There is an ethic of conservation here," she said. "We're doing it for the right reasons too, because we're not here for the money or the publicity. We are just here to save the animals.
Although it focuses on conservation, it is a treat to attract funds for the center.
"It was an honor that blew my mind," Vaszily said. "I was nominated towards the end of May, and I kinda forgot about that."
A few months later, on Vaszily's birthday, she found out that she had won the western division of Cox Preserves Heroes and a prize of $ 10,000. She was ecstatic.
Then, on October 18, Vaszily was boarding a plane to attend a family reunion when she received the call that she had won the grand prize of $ 50,000.
"I wanted to scream, but I knew if I did, TSA would come running," she said with a laugh. "Being able to turn a personal honor into something meaningful for an organization close to my heart just blew me away."
During her flight, she reflected on her commitment to wildlife.
"I sat on the plane and reflected on how I had spent the last 60 years in conservation education, environmental education, and science education and maybe this had really paid off, "she said.
When she returned from vacation, Vaszily was delighted to learn that she had a say in the use of the money.
"I asked if we could focus this amount on expanding our education efforts so that we can educate the next generation on what it means to be a wildlife steward and what it means to live with wildlife sustainably. "she said. "We are already studying the techniques and plans we have to expand our education efforts. "
In the meantime, Vaszily is grateful to Cox Preserves Heroes and plans to publicize the organization.
"I had never heard of Cox Preserves Heroes, but I'll be spreading the word from now on," she said.
Information: sudouestwildlife.org
[ad_2]